Gave the bike a quick wash down, which generally puts me in the mood for an excursion, especially under a blue sky with bright sunshine ...
which proved a bit deceptive as it was a mere 13c, positively arctic by our standards.
A few bits of residual fig on the sidewalls gave me a couple of small slithers on the concrete road to the pueblo, I crossed my fingers that centrifugal force would come to my aid on the main road.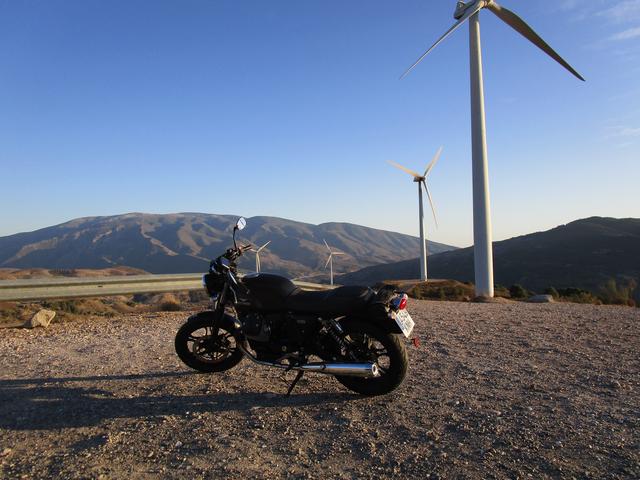 Just outside Lanjaron, looking towards the Alpujarra valley.
Heading north up the valley I passed through Beznar, which appeared to be asleep,
and paused to tighten the Tom Tom which had reacted to a short blast at 70mph by rotating 30 degrees. Several bikes passed, with waves exchanged.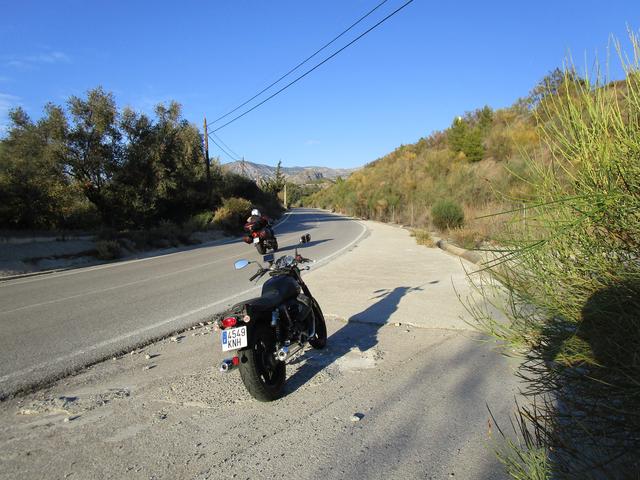 I had hopes of a hot cafe cortado, or espresso, in Lecrin, but unfortunately the bar was shut. I've not sussed the opening hours here, I suspect they are as variable as the size of a glass of wine, which is closely synchronised with the mood of the barman and the cut of your jib.
The bars here are a national treasure, each very individual, and all very welcoming.
When you enter, you greet the assembled company, and they return your greetings. You are then one of the company.
Just like boarding the Tube at Tottenham Court Road ...
Now usually I make do with a fox's breakfast, but if I'm in town I'll have a combination favoured by many, cafe cortado, toast with butter and marmalade, and a glass of cognac which would rate as a treble in the UK. After that I'm fairly unsinkable.
Westering home, the sun now on my back rather than in my face, temperature falling ...
Back in Lanjaron, admiring the weaver's outdoor display. Inside the tiny shop are two large weaving looms, and the diminutive weaver, flinging shuttles, treading pedals, hovering and darting like a humming bird, with bolts of cloth hanging everywhere, and some really great colours and textures. Very hard to come out empty handed.
Back up the mountain in the fading daylight, and dropping down the drive into the huge ampitheatre which surrounds the casa, and gives me a clear view to the sea.
Time for a little something ...